ABOUT US
ABOUT US
For over forty years, Chiswick Choir has built up a reputation for performing the classic European repertoire as well as contemporary works.
CONCERTS
CONCERTS
Chiswick Choir performs three concerts a year, bringing choral music to a wide audience at affordable prices.
JOIN US
JOIN US
We welcome new members to enjoy and share our experience of  performing choral works to the highest standards.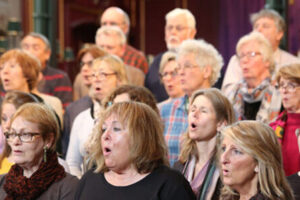 MEMBERS
members section
Useful information for Chiswick Choir members
Welcome to the West London Chorus
West London Chorus is the new name of the long-established Chiswick Choir.
Buy our Christmas CD!

Buy our first commercial CD recording as the West London Chorus!

Two festive and seasonal works by the well-known choral composer, Bob Chilcott
– On Christmas Night

and

Wenceslas.

Wenceslas is based on the legendary tale of the Bohemian King and his Page, and tells of their kindness towards an impoverished peasant struggling in the winter cold.

On Christmas Night charts the trajectory of the Nativity story, from the fall of Adam to the prophesy of the Incarnation, to Mary and Joseph's journey to Bethlehem and the birth of Christ.
Play an extract from our new CD
Saturday 2nd April 2022 at St Paul's Church, Grove Park, W4 3SD

An Easter concert of sacred and uplifting choral works by 20th century composers, including Elgar, Howells, Barber and many others .

Saturday 23rd April 2022
Conductors' Workshop at St Mary's University Chapel, Twickenham

A joint event with the West London Chorus and Hampton Choral Society, led by Hilary Campbell and Richard Harker.

Up and coming and student conductors are invited to find out more and apply via our Contact Us page.









The original Chiswick Choir was founded in 1976 in London W4 by John Thackray, a passionate musician who served as conductor for many London choirs. Between 1984 and 2015 the choir was conducted by Alistair Jones and since January 2016 the choir has flourished under the direction of award-winning composer and conductor Hilary Campbell. In 2021 the choir changed its name to the West London Chorus to reflect its wider reach and appeal.
Over the course of its career the Choir has built a repertoire principally based on the European tradition from the 16th to 20th centuries. The choir has also performed more contemporary pieces, including the world premiere of Alistair Jones's Stabat Mater in 2006, Will Todd's Mass In Blue and works by Bob Chilcott and others.
The choir's repertoire includes most of the major works suited to a group of its size – the Bach Passions, Mass in B minor, oratorios by Handel, works by Mozart, Haydn and Beethoven, Verdi's Requiem, Mendelssohn's Elijah and so on. Excursions into the 20th century have included performances of Britten's Saint Nicolas, Tippet's A Child of Our Time and Stravinsky's A Symphony of Psalms.
Our Aims are:
To inspire amateur singers to perform choral works to the highest standards
To bring choral music to a wide audience at affordable prices
To encourage singers to experience the enjoyment of singing
To keep the tradition and art of choral singing alive for future generations
We always welcome new members, and more information is available on our Join Us page.
We also offer a limited number of vocal scholarships each year to nurture the skills and experience of talented singers between the ages of 18 and 30.
Here are some short videos of the Choir performing:
For information about our forthcoming performances and events, please see our CONCERT SCHEDULE
We usually perform three concerts a year as the culmination of our Spring, Summer and Winter seasons., working with a variety of soloists, small ensembles, or full orchestras, to deliver works from our varied repertoire.
Music we've performed recently includes:
Carl Orff 's Carmina Burana, Brahms' Ein Deutsches Requiem, Haydn's Nelson Mass, Fauré's Requiem, Will Todd's Mass in Blue, Duruflé's Requiem, Elgar's Spirit of England, Vaughan Williams' Sancta Civitas, Schubert's Mass in G, Bruckner's Requiem in D, Bob Chilcott's Songs and Cries of London Town, and much more.
We normally perform in local churches but we've also filled St Johns Smiths Square and have provided the guest choir at York Minster. To see what we've done recently, look at our CONCERT ARCHIVE.
Here's part of our pre-lockdown performance of O Lord of all Creation from Bach's Christmas Oratorio.
…and a 'virtual performance' of At the River by Aaron Copland arr R. Wilding-White, recorded under lockdown by choir members at home.
Recent events
Our first event of 2022 was our 'Come and Sing' workshop in January, when choir members and guests spent the afternoon working on Vivaldi's 'Gloria' with our musical director Hilary Campbell.
——————-
Our most recent public concert was in December 2021 when we launched our new CD recording with a performance of Bob Chilcott's 'Wenceslas' and other seasonal works.
——————-
Back in September 2021 we put on our much delayed Robin Johnson Composition Competition Concert
Videos of the Competition pieces
Read more about our Robin Johnson Composition Competition
——————-
Our previous live concert was back in December 2020, when we put on a socially-distanced, behind-closed-doors, performance of Bob Chilcott's 'On Christmas Night'.
Chiswick Choir is registered with Making Music (National Federation of Music Societies).